About us
OUR COMPANY HISTORY


The Desoutter family have a long history in medical engineering. Following a flying accident in 1913, Marcel Desoutter's brother Charles used his experience as a model maker to design and make the world's first lightweight articulated duralumin leg for Marcel. Shortly afterwards Desoutter Bros was established specialising in the manufacture of lightweight limbs.
With the impact of the Second World War, the company extends its range of products to include the M2 Mighty Atom, a corner drill designed to drill rivet holes in spitfire wings.
The company's medical heritage was maintained with the launch of its first surgical tool - the M8B bone drill. Charles' son, Roger Desoutter, is appointed Managing Director of Desoutter Bros. Under his astute management, the business grows into an international market leader.
In 1990, Desoutter Bros Holdings was acquired by Atlas Copco, a Swedish compressed air group. The small medical division was sold to the Desoutter family as a private company, forming De Soutter Medical Ltd.
Veterinary Power Tools
Through a partnership with Dr. Slocum in the early 1990's, De Soutter Medical produced the TPLO Slocum saw.
Dr. Barclay Slocum, a distinguished orthopaedic vet was instrumental in developing the TPLO procedure. Dr Slocum worked closely with De Soutter Medical to develop the first Slocum saw. De Soutter Medical designed a special inline oscillating saw with an oscillating spindle to suit a jaw specifically made by Dr. Slocum.
Today, De Soutter Medical have moved the design along to include battery and electric power options. The original concept remains, but with a lighter, more versatile, modular choice.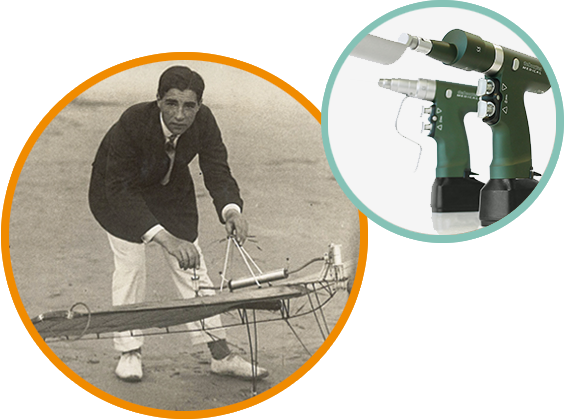 The TPLO procedure has become the most commonly performed surgery for dogs.